Hallmarks
Discovery Camps focus on free play in the outdoor world, encouraging teamwork, building community, living our Christian faith in the play, worship and activities of each day. Sonlight is small and we get to know each camper. The mountain setting is an ideal place for kids to play in nature, and grow more confident in who they are by being away from home.
June 23-29, 2024
July 28-August 3, 2024
Tuition: $795 / $645*
Sonlight aims to keep camp affordable to all even as operational costs continue to increase. 
Arrival time: 4:30-5:30 Sunday
Pickup time: 8 am Saturday (coffee and continental breakfast for parents and campers) Short closing program at 8:30 am
---
Financial Aid: Payment Plans Available for all camps. Additional scholarships available based on financial need. Please contact us to apply. 970.264.4370
*4th Graders may choose to attend Junior or Discovery Camps, or both!
*6th Graders may choose to attend Discovery or Adventure Camps, or both
"My kid came home with a bigger sense of the world around him, his faith and community. Thank you."
June Discovery Camp
Arrival / Departure details and Packing List Coming soon!
July Discovery Camp
Arrival / Departure details and Packing List. Coming soon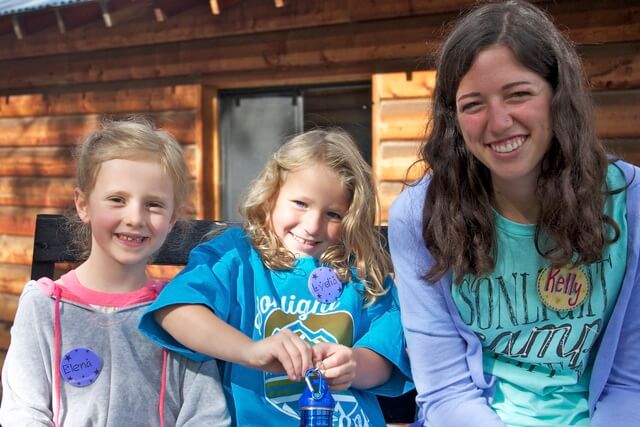 About Discovery Camp
Campers and staff members are energetic and enthusiastic about Discovery Camp! For rising 4th, 5th, or 6th graders, Discovery camps are intentionally programmed with the pre-teen in mind. Whether the week includes old friends or new, campers are proud of their accomplishments on the climbing wall, archery range, learning a new craft or building the best fort in the woods. Time with our speaker is entertaining, and small group time and discussion will encourage kids to think about their faith journey.
Campers benefit from a low staff to camper ratio (1:5) and have the opportunity to meet new friends, laugh and play, and discover confidence away from home.
With 44+ years of camp experience in our pocket, Sonlight believes that camp is a powerful experience in whole-child and faith development, a safe place to try new things, a place to unplug from our digital world, and an opportunity to be surrounded by supportive and loving role models.
Letter From The Directors
For 43 years, Sonlight has sought to live out Christ's mission and empower youth to become all that God intends them to be. Inspired by our mission to "Be With Kids, and Show them God", we are so grateful to be able to provide a space away for youth.
The Sonlight leadership team is diligently working on creative and innovative ways to make this summer the best one yet for both our new and returning campers. We continue to seek ways to remain faithful to Christ's mission in raising young people for God's reign. Whether for a weekend retreat, backpack trip, or week long camp – we hope to make Sonlight a place of God's rest and blessing for whoever might want to avail themselves of this ministry.
 Thank you for entrusting us with the care of your children and youth—Sonlight continues its ACA-accreditation so that our programs and facilities will be the best that they can be. We are blessed by the continual commitment of campers, parents, guests, and donors who consider Sonlight to be a home away from home.
We look forward to greeting you soon with a warm "Welcome home!" and of course, offering you fresh-baked cookies.
Mary, Claire, Winston
Sonlight Office – 970.264.4379
Banquet Night Theme
Banquet night theme to be announced!
FAQ's
Is Discovery Camp a good fit for my child?
Discovery Camp is intentionally programmed for kids who are looking for the full camp experience. Sonlight realizes the unique challenges parents face when sending their young child to summer camp. Both camper and parents can feel anxious about time away from home. We design our summer camps specifically for this age group to be fun, enriching, innovative and memorable.
How do you hire and train your staff?
We hand-pick college students through our selective hiring process. Pre-summer, our staff go through an extensive 10-day orientation and training. Our summer staff are fully trained in areas such as child development, homesickness, bullying, behavior management and safety. You entrust us with your child and we do not take that lightly. We want your child to have the best summer camp experience possible.
Still have more questions? Call us!  970.264.4379. Visit American Camp Association's www.campparents.org for advice, how to choose the right camp, the impact of summer camp on child development and helpful information. We believe in the benefits of summer camp. We hope you will too!
Activities
Our Discovery activities are intentionally programmed for the enjoyment and enrichment of pre-teen kids. Some examples of our Discovery Camp activities:
Day hikes in the San Juan National Forest
Team building, meadow games and parachute games
Dodgeball
Axe throwing
Archery
Campfires
Daily worship and small group time
Geocaching
Bottle rockets
Bouldering wall and climbing walls
Sonlight's famous "Messy Games"
Arts and crafts
Foam slip n' slide
Frisbee golf
Themed meals (may be a Mario's Italian Dinner, Wild West Burger Cookout or other!)
Fort building
Soccer
Campfire skits and songs
Cancellation Policy
Should you cancel your registration, there will be a $150 cancellation fee. If you cancel your registration within 14 days of the start of the camp and we are unable to fill your child's space there are no refunds. There are no refunds or pro-rated pricing for early departures or late arrivals.