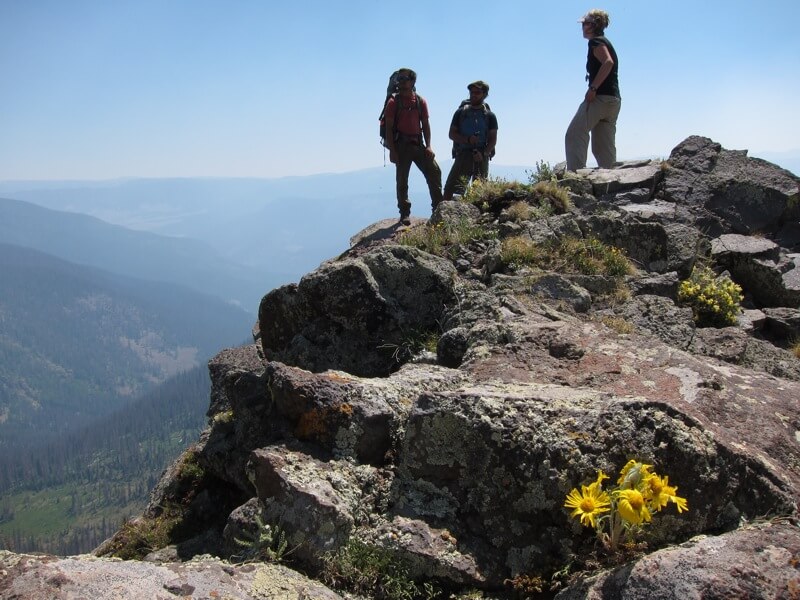 Giving Back to Sonlight
Gifts may be given to Sonlight in memory or honor of a loved one. Sonlight will send a note to the family to let them know of your thoughtfulness. Funds will be used as directed by the family.
All contributions are tax-deductible. Sonlight Camp is a 501(c)3 organization
The Impact of Memorial Gifts
Gifts donated in memory of someone will make Sonlight a better place. These donations may be used to fund a special project or set aside to permanently endow a camper scholarship as the family wishes. For a conversation about a gift in memory of a loved one contact Winston Marugg, Executive Director 970.264.4379.
Dorothy Mathers
Dorothy Mathers
January 1927 – June 2019
From the mid-1980's through the early 2000's Dorothy and Terry Mathers faithfully came to Sonlight every Memorial Day to join in the Barnraisings, the work weekends when friends and family came to southwest Colorado and built Sonlight year by year. Terry Mathers and Stu Parks were in charge of cutting the logs, running the 16″ circular saw year after year. Together they cut almost every log in this place. Dot was so faithful with all the work to support the building crews, and help prepare the rest of the camp for summer. Cooking, cleaning, planting flowers, painting … the work she accomplished never went un-noticed. She set the example of grace and style amid the construction, working to go above and beyond in every task.
The construction and behind the scenes work set the stage for camp each summer. Dot and Terry faithfully served to prepare the place for ministry to happen. Beyond the work they accomplished each of those weekends Dot and Terry passed along their wisdom and skills. Dorothy taught us how to plant flowers and brought recipes that Sonlight still uses. Set an example of organization and cleaning. Terry passed along handyman skills and tricks for maintaining things and helped sort out computer issues.
Summer 2019 our theme is Make Your Mark. Dorothy passed away June 1, 2019 and we are reminded of the mark she left on each one of us and the camp that Sonlight is today. The imprint of her life is being passed on to generations of campers and staff and through her we see the mark of Christ. Thanks Dorothy for life well lived, for your friendship and for the legacy that you leave.
Dorothy Crawford
Dorothy Crawford
July 28, 1935 – Nov. 27, 2018
A long time friend of Sonlight Dorothy was a camper at GrandCamp, and a retreat guest for many years with the women from the United Church of Los Alamos. Her love of camping was deep. Dorothy was the camp nurse for their church youth camps for many years when her kids were young and she was always proud of saying she was a camp nurse.
Dorothy was an advocate for the nursing profession as a legislative consultant and lobbyist for the New Mexico Nurses Association. As the President of the New Mexico Nurses Foundation, she worked to expand their goal of providing nursing education scholarships.
Dorothy loved good conversation. At Sonlight we have built Dorothy's Deck, a small deck in the meadow as a place to invite conversation. We also used funds donated to Sonlight in memory of Dorothy combined with other funds to purchase a new convection oven. With camps full we just didn't have adequate oven space for all the baking the cooks do. It's been a wonderful addition. Dorothy is missed, but she left her mark on this world and on all of us.
Arnie Sierk
Arnie Sierk
November 1946 – October 2018
A long time camper Dad, Arnie was the biggest fan of his kids. His 3 kids were Sonlight campers then both Kim and Brian returned as summer staff members.
A 1968 graduate of Cornell University, Arnie went on to receive a PhD in Physics from California Institute of Technology in 1972. He spent most of his career (40+ years) at Los Alamos National Laboratory, he was named a fellow of the American Physical Society in 1985. While Arnie loved physics, he made a deliberate decision to prioritize his family over his career. He always put the needs of his family first. His deep love for his three children led him to volunteer to coach soccer and basketball, and to travel around the state and beyond to watch countless sports competitions, music concerts, and school events. He was a wonderful grandfather and took great joy in each of his six grandchildren. He had a lifelong love of steam engines, model railroading, and reading science fiction. He was active in the community, serving on the board of Casa Mesita and in multiple capacities at the United Church of Los Alamos. He was a man of wide curiosity and varied interests, and a source of both deep wisdom and random trivia. He is deeply missed. Funds donated to Sonlight in memory of Arnie were combined with memorial funds from Dorothy Crawford so we could purchase a new convection oven. Much needed additional oven space.
Kelsey McLean
Kelsey McLean
July 1992 – August 2015
Light and love, Kelsey will be remembered by her shine and brightness. She had a love of adventure, all things outdoors, her friends and family. Kelsey was a Sonlight camper from 3rd grade through high school, then a counselor, Program Leader, speaker, photographer and volunteer. There is no measure of her impact on campers and staff. She was intentional in her concern for others and her willingness to give freely of who she was. She is deeply missed.
Elinor Winchester

Elinor Winchester
September 2, 1917 – March 7, 2015
Elinor (Mary's mom) requested that Sonlight be designated as one of the organizations for memorial donations. Elinor was involved with Sonlight from the very start. She faithfully came to every barn raising (building weekend) and believed in all that Sonlight was about. As she requested, a donation may be made to Sonlight in her memory. These donations will be put in the Endowment, to establish an Elinor Winchester scholarship fund permanently funding scholarships each year. Our tribute to Elinor and a legacy that she leaves.
Paul Henry
Paul Henry
April 1947 – September 2014
Paul was best defined by his dedication and involvement in his family and friends. All who knew him were touched by the generous way that he gave of his time. He had a heart for people and a clear understanding of what was important in life. His generous gift of time and his friendship extended to Sonlight as he spent many hours in lending a hand with projects and maintenance. He was characterized by his compassion, humility, patience and thoughtfulness, and he is dearly missed by his Sonlight friends.
Jack Hudson
Jack Hudson
October 25, 1947 – January 9, 2014
Devoted husband, father and friend. Jack is remembered by his sense of humor and his curiosity for solving any sort of problem. Jack worked most of his career at Sandia National Laboratories in Albuquerque, NM in the field of IT and cyber security. He earned his PhD in electrical engineering.
Jack spent many years at Sonlight as a volunteer counselor. His son Scott was a camper, and the physical limitations that came muscular dystrophy required the assistance of Dad for Scott to fully participate in camp. In Jack's honor Keith and Stephanie Hudson (son and daughter-in-law) contributed funds for "Jack's Shack" A Waterproof Recreational Equipment and Tool Storage Facility in Memory of a Great Counselor and Father."
Jerry Buckley
Jerry Buckley
November, 1948 – February 2013
His daughters were Sonlight campers, and when he passed away it was fitting that memorial funds be designated for Sonlight Camp. A builder of the highest skill, it was said that you could tell a Jerry Buckley home in the Pagosa area because of it's quality, and Jerry's attention to detail. He loved his family and his friends. With an eye for detail and beauty, Jerry took pride in his home and the outside landscaping. It is fitting that Sonlight used memorial funds to beautify "Jerry's Lawn", the area in front of the nurses trailer.
Ted Crawford

Ted Crawford
1935 – 2010
An engineer at the National Lab in Los Alamos, Ted loved all things maintenance. While attending a Men's Retreat at Sonlight with the United Church of Los Alamos, New Mexico he spent some time with Winston discussing the need for ongoing maintenance and upkeep for facility. He was familiar with the mission and impact on United Church youth over the years, his son Matt was a counselor in 1986 and 87. Ted had hoped to be able to help with some projects at camp, but did not get to do so because of health issues. Before passing away, Ted indicated he would like to support Sonlight and help continue the opportunity to provide the christian youth camping experience.
Ted had been active in the United Church Youth program through the years as a Sunday School teacher-4th grade, Jr. High and High School. He and his wife Dorothy had also sponsored Sr. high and college age youth groups, been United Church Christian Camp counselors at Beaver Creek, South Fork, Colorado. Ted enjoyed the outdoors and after retirement enjoyed hiking with his black lab Kate.
Norman Winchester
Norman Winchester
1915-2009
Norm was probably the biggest fan of Sonlight, contributing since the very beginning. "Winchester Cathedral" is familiar to us all. Norm is Mary's Dad, and those who knew him will remember him saying "It's the best camp ever".
Norm was known for his cheerful determination to not be defined by his bout with polio. He helped with the construction of the Lodge, Cathedral and cabins at Sonlight, pounding spikes and fixing the tools we broke. It is fitting that funds donated in memory of Norm will allow more kids to come to Sonlight, and experience the mountains he loved so much.
Scott Hudson

Scott Hudson
1982-2008
Scott was a friend and a camper for years. Muscular Dystrophy didn't slow him down, and he scooted all over camp in his wheelchair. Early on, we built a bridge across the seasonal creek, so he could get to the outdoor chapel and teams course. Scott was the brains behind some of our Teams Course elements — Hudsons Pegs, and Scotts Knots. We miss him. His infectious smile, his humor and his gracious spirit. Summer 2009, Charlie Mozisek built "Scott's Spot". A delightful place to sit, enjoy the spinning chairs, find a geocache or just hang out with friends.
Ginny Cardelli
Virginia Cardelli
1923-2007
Mom's are always the most amazing sources of support, and Ginny was no different. The mom of Jan, one of our staff members, Ginny visited Sonlight a few times and helped in the kitchen. Her love of cooking and entertaining inspired us to use funds donated in her memory to build "Ginny's Grill", the deck next to the lodge where we grill, pack lunches, serve pizza and philly cheesesteaks.
After Ginny's first visit to Sonlight, she knew Sonlight was a special place where kids were shown God. Ginny's strong faith and "a day at a time" motto enriched her family and friends. Ginny was generous with her kindness and encouragement and we will miss her, along with her warm and gracious smile.