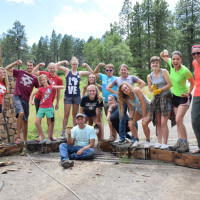 Maintaining facility, and caring for kids: It's all in a days work.
Lots of strong arms to pull down the cross beam above the cattle guard. In place since 2000, the beam was rotten and collapsing.
Finishing up Adventure camp today, it's been a full and energy filled week. Pizza lunch, messy games and our closing campfire tonight, we all love Fridays. The messages from Tim have been thought provoking and impactful, and he has challenged us to be the change, and be who God created us to be.
Thanks to some amazing volunteers this week: Holland, Shelby and Bailey, and Erin with Service Crew gals Breezy and Kaley. Thanks for the hard work everyone!