Junior Camp
Rising 3rd and 4th graders
Hallmarks
Sonlight is intentional with our programming, so a camper's first experience is fun and positive. Creative activities emphasize free play in nature, cooperative living with others, and sharing our faith through all the activity of camp. Sonlight is purposefully small, enrollment limited to a maximum of 56 kids per session.
Junior Camp is for rising 3rd and 4th graders
July 5-7, 2018 (Thursday – Saturday)
Tuition: $245 | $175 (subsidized Tier)
Financial Aid: Payment Plans Available
Additional scholarships available based on financial need – contact Sara to apply. 970.264.4379
*4th Graders may choose to attend Junior or Discovery Camps, or both!
Don't miss out on the best week of the summer
Registration opens January 2, 2018
"Love the people, love the place. Love the difference you make in my child's life."
Camper Parent 2014
About Junior Camp
Junior Camp is specifically designed for first time campers going into 3rd or 4th grade. An abbreviated week, this three-day camp is a great time for kids to take developmental steps toward building confidence and maturity, while getting a good dose of the outdoors.
Campers benefit from a low counselor to camper ratio (1:4) and have the opportunity to play, laugh, and just be kids in a safe and supportive environment.
With 32+ years of camp experience in our pocket, Sonlight believes that camp is a powerful experience in whole-child and faith development, a safe place to try new things, a place to unplug from our digital world, and an opportunity to be surrounded by supportive and loving role models.
Letter From The Directors
Dear Camper Parents,
We are so excited to host your child at Sonlight Christian Camp for a week or more this upcoming summer. We look forward to a time of laughter, great food and many fun activities together. The week will be a balance of learning about ourselves and God, a time to ask those tough questions and an opportunity to grow as a person. With hiking, campfires and crazy games, we'll explore God's creation and life as God wants it to be. We hope it will be the BEST week of your child's summer.
If you have any questions or concerns about Sonlight Camp, our staff or our program, please contact us. If there are unique or special circumstances that apply to your child, also let us know so we can serve your family better. Our passions are kids and camp. We want every camper to love the Sonlight Camp experience. See you this summer!
Vaya Con Dios,
Emrys Tyler, Co-Director – emrys@sonlightcamp.org
Sara Tyler, Co-Director – sara@sonlightcamp.org
Chelsea Poest, Program Director – chelsea@sonlightcamp.org
Sonlight Office – 970.264.4379

FAQ's
Is Junior Camp a good fit for my child?
A short week, Junior Camp is intentionally programmed for younger kids who have not been to camp, or spent much time away from family. Sonlight realizes the unique challenges parents face when sending their young child to summer camp. Both camper and parents can feel anxious about time away from home. We design our summer camps specifically for this age group to be fun, enriching, innovative, and memorable.
How do you hire and train your staff?
We hand-pick college students through our selective hiring process. Pre-summer, our staff go through an extensive 10-day orientation and training. Our summer staff are fully trained in areas such as child development, homesickness, bullying, behavior management and safety. You entrust us with your child and we do not take that lightly. We want your child to have the best summer camp experience possible.
Still have more questions? Call us! Emrys and Sara Tyler, Directors or Chelsea Poest, Program Director: 970.264.4379. Visit American Camp Association's www.campparents.org for advice, how to choose the right camp, the impact of summer camp on child development and helpful information. We believe in the benefits of summer camp. We hope you will too!
Activities
Our Junior Camp activities are intentionally programmed for the development, enjoyment, and safety of these younger campers. Some examples of our Junior Camp activities:
Shortened nature hikes
Meadow games and parachute games
Bouldering wall and climbing walls (with harnesses specifically designed for younger children)
Sonlight's famous "Messy Games"
Arts and crafts
Foam slip n' slide
Daily worship and small group times
Geocaching
Frisbee golf
Themed meals (i.e. Mario's Italian Dinner or Wild West Burger Cookout)
Dodgeball
Archery
Fort building
Campfire skits and songs
Soccer
Volleyball
2018 Summer Theme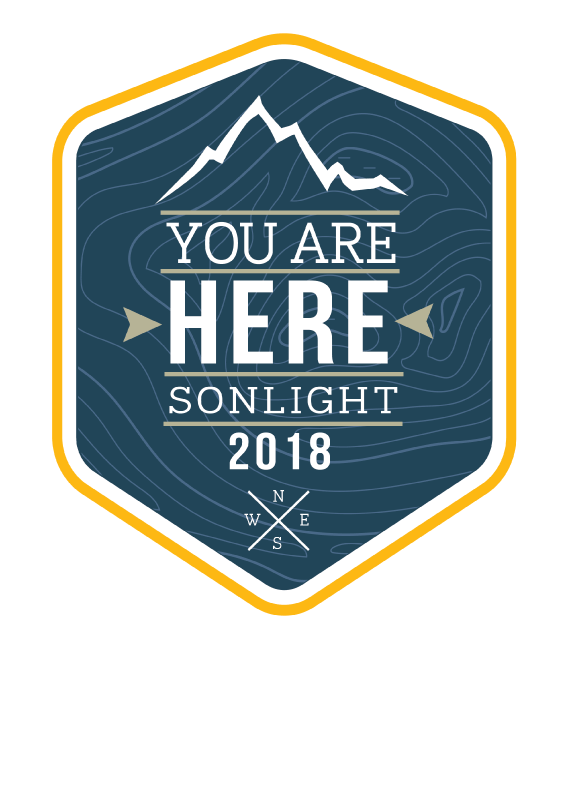 Welcome to Summer 2018: A summer of putting aside the tomorrows and the yesterdays and saying, HEY, I'M HERE TODAY and learning to love and live in the moment. Because, life is happening all around us – in the small moments and in the grand ones, too. Let's gather together this summer to put aside our phones, grab a friend's hand and give three hip hip hoorays to the chance to do life with one another in a real, present, and authentic way.
You are here! Wherever you find yourself right now, I encourage you to be fully there. Don't let the wonder and glory of life pass you by. Jesus continues to work and be fully present in those small, sometimes mundane moments. So, let's all try to live out our lives RIGHT NOW instead of waiting for life's next big moment to happen.
Sing a little louder, dance a little bit crazier, jump a little higher, love a little more. Enjoy it.